B1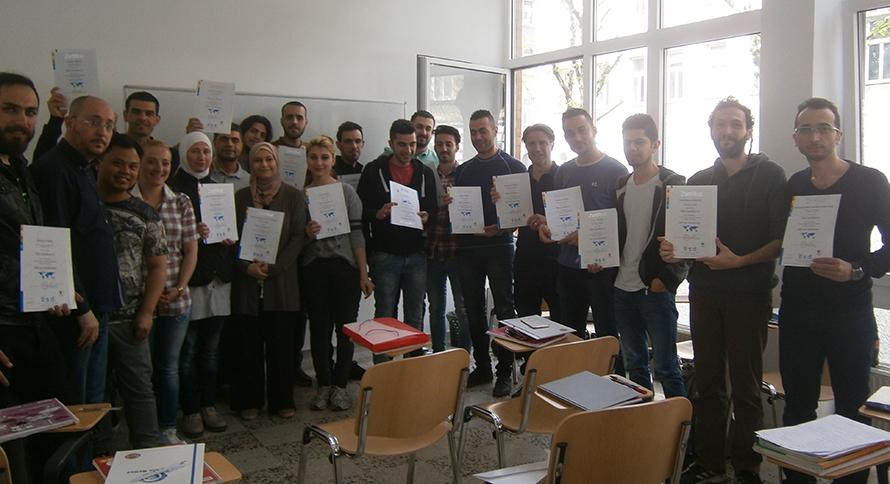 For participants with some advanced knowledge. These courses lead up to Level B1 of the Common European Framework for Languages (CEFR).
Course content
Communication on general topics
Speech agent for more complex conversation
Be simple official documents
Understand the main points of radio or TV programs that are of general interest
Mastery of basic vocabulary on general topics
Parenting, parent-teacher days and project weeks
Can inquire by simple means on the child, via participation, performance level.
Can be used in meetings with teachers or tutors make simple arrangements, via content and duration of tutoring.
Physical description, application, communication Can express in simple words that he / she does not agree with statements and actions.
Is aware of the culturally different relevance of personal appearance (for example, appearance, self-confidence, openness in view of the strengths and weaknesses of admission if necessary) and can put in their appearance to relate.
Is aware of the culturally different evaluation of forms of self-expression in finding employment and acquired in the society of origin skills may represent the practice of the host country in accordance.
Budget, equality
Can easily his / her opinion of experienced and observed aspects of life in Austria report.
Can be exchanged and explain why he / she has felt certain behaviours as strange intercultural experiences.
Application, payroll
Can check, whether their job included deals his.
Can use a template to submit a simple letter of application and give it important information about himself, for example, reasons for applying, suitability for the post.
Can be used in working documents to understand the essential information such payslips net income.
Life in the home country and contemporary life
Can the essential action features of a literary text, which is largely based on the basic vocabulary and a simple, concrete action, understand.
Can understand different storylines in a fairy tale and the moral at the end of the tale.
Can be used in a short story, which is about childhood experiences, understand the major events.
Wishes, Consumer Protection
Know that there are consumer protection centres or consumer information points, knows their function and knows how to put them to claim.
Know that there are conversion options, a right of complaint and statutory and voluntary warranty.
Holiday reports, traffic information, car, road safety
Can important information in simple loudspeaker announcements on the train, understand at the station or at the airport, z. B. track changes or indications of delays.
Can traffic reports on the radio for relevant information, for. Example, traffic reports, barring a highway.
Companies, self-employment
Can check the banking services, as loans or investment opportunities.
Can talking to landlords ask for detailed information on available housing, z. B. to move-in date, size, and operating costs.
Rural and urban life, animals, the environment and waste separation
Can communicate with other occupants of the house (neighbours) about the housing situation
Can a short statement on measures to protect the environment write and communicate these.
Knows the rules on waste disposal and waste separation. Accidents, hospital, memory training.
Can about health talk, thereby speak also about feelings and fears. Respond to the feelings and fears of the interlocutors.
Can talking with doctors giving basic personal, health status and possibly to previous treatment in the country of origin.
The political system in Austria, local politics, mayoral election, the European Union
Can radio news bulletins after an election which he / she is interested, understand recovered which parties and which have lost.
Can describe important features of the political situation in his / her home country and express his opinion about it friends.
Registration